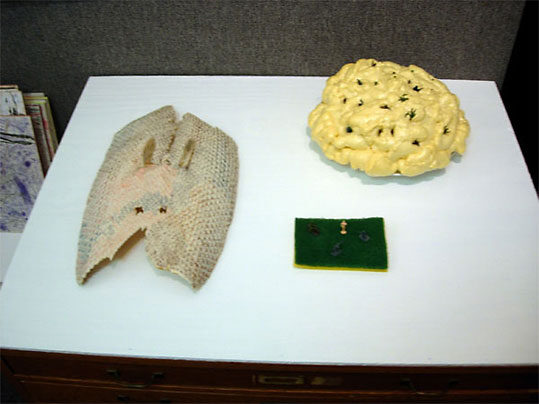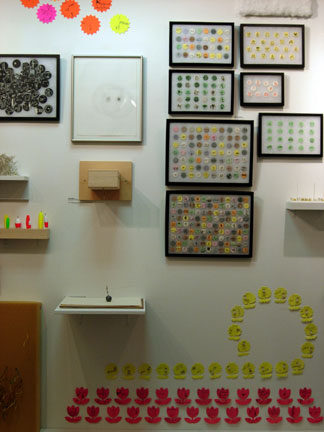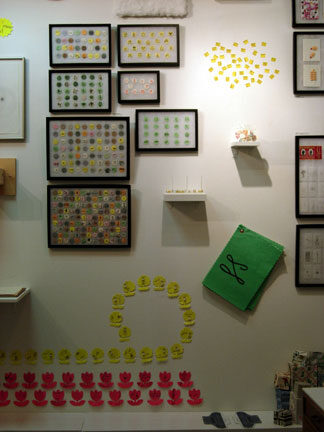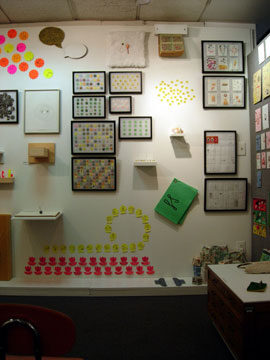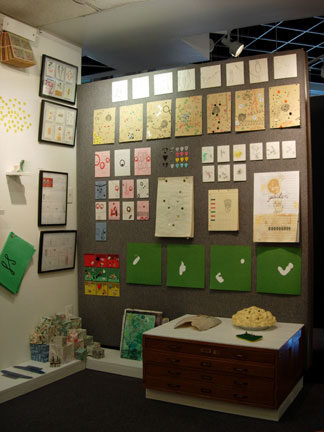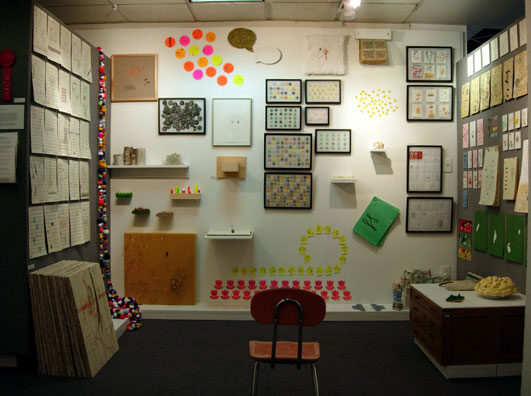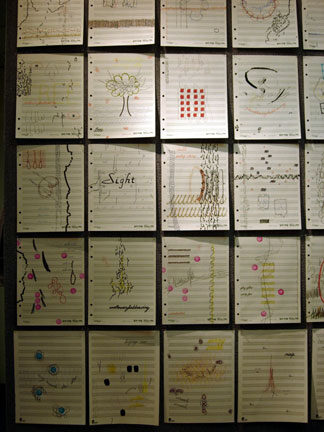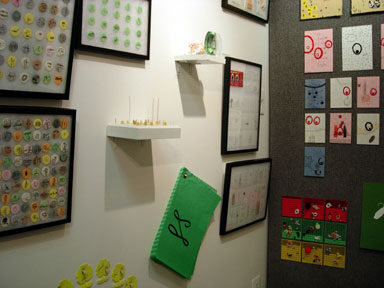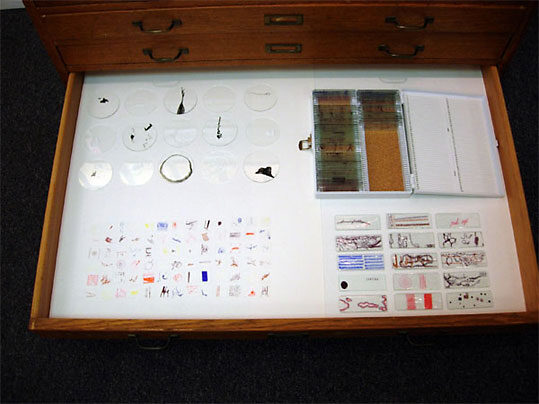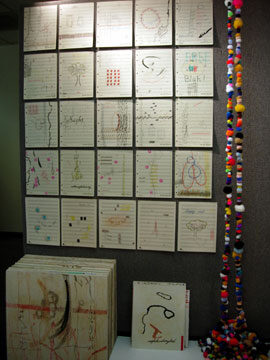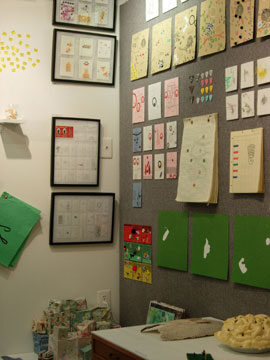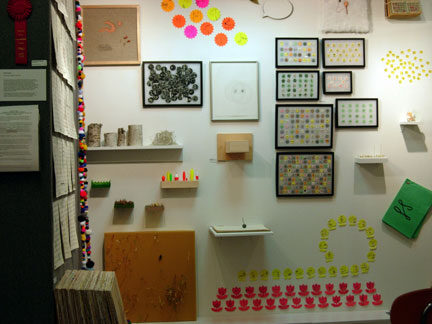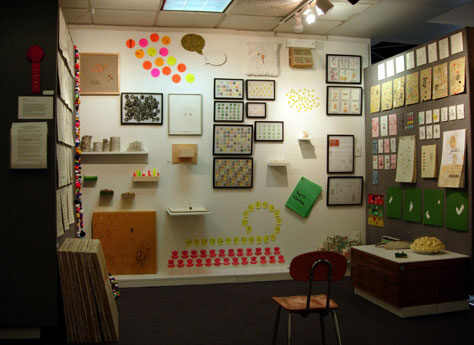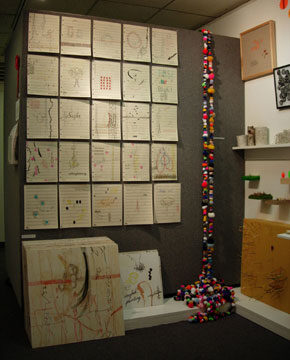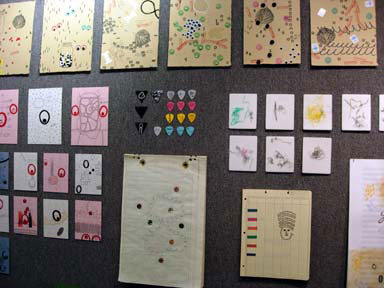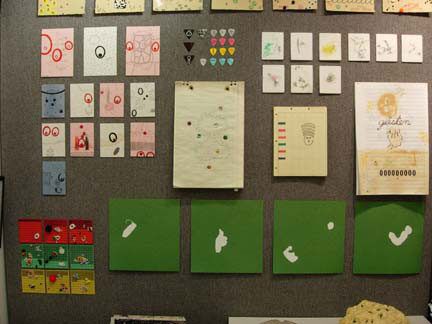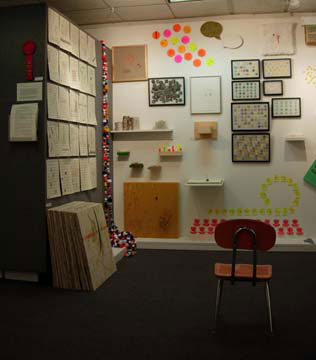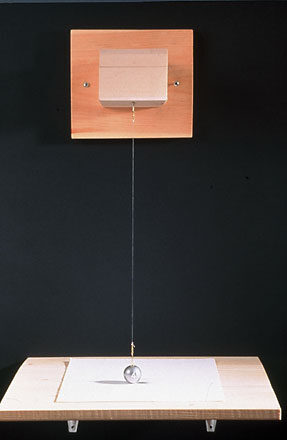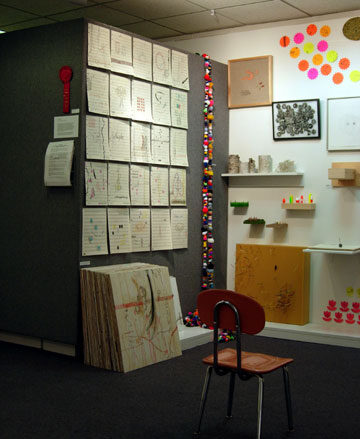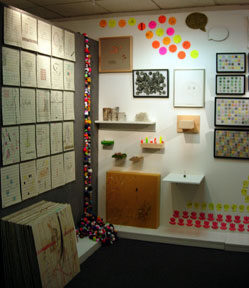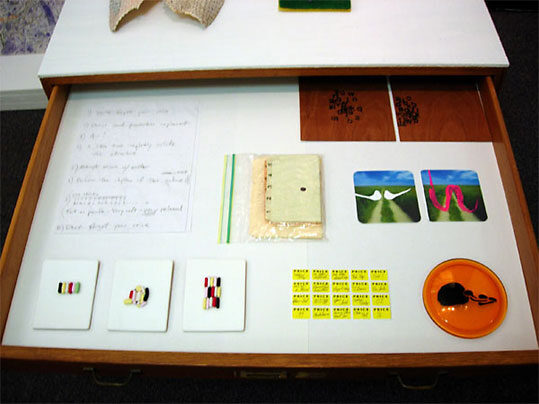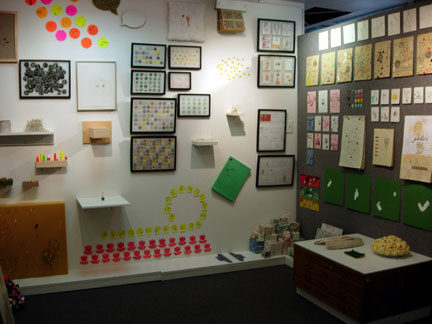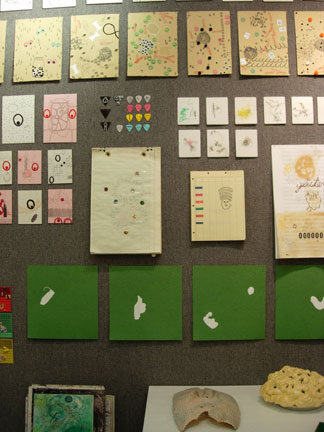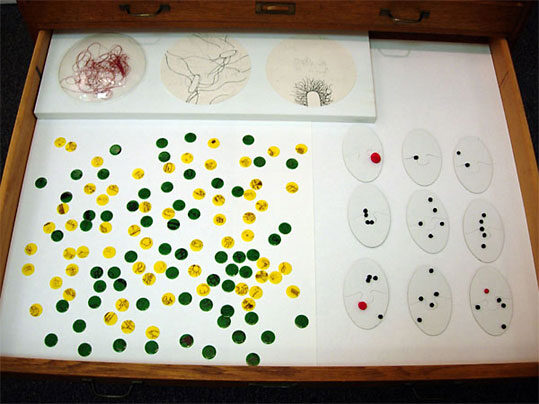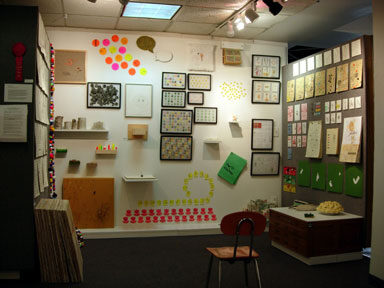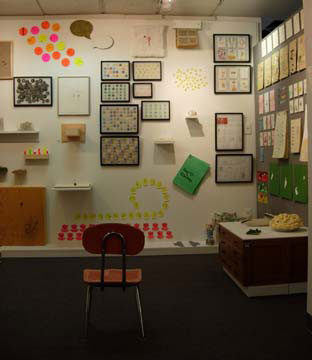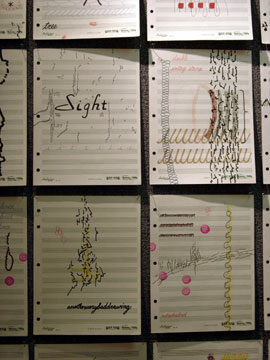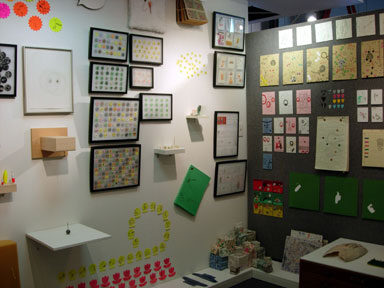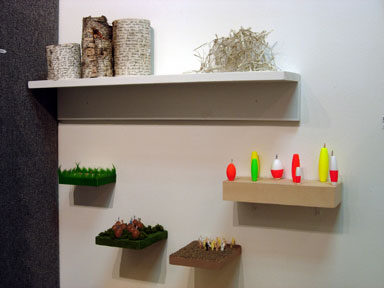 Trawick Prize • Artist Statement
Perpendicular Dialogues (modified installation)
Trawick Prize Exhibition at the Creative Partners Gallery, Bethesda, MD
September 6 – October 2, 2005
This installation, an adaptation of my earlier Perpendicular Dialogues installation in the Rosenberg Gallery at Goucher College 2001- 02 (individual series are still being expanded upon), is about collections, or about the idea of collecting.
What does it mean to collect – to collect things, to collect art? How do we present our collections? These ideas and questions came together during an intensive series of conversations and interactions over an 18-month period between myself and a number of other artists: dancers, musicians, a photographer and a media artist. They were heavily influenced by my personal experiences during that time, and the result was more than 1,500 works of art using a wide variety of media: everything from Stickem Special (the glue used on sticky mouse traps) to finger condoms, glitter, pills and foam insulation.
At quick glance, the installation – a kind of cacophony of the imagination – looks as though it's made by a large group of people instead of one person.
In a way, I've begun to collect myself – which, in addition to the practical aspect of accumulating objects of course has an emotional meaning, too (to bring your emotions together under one roof and under control). So, I've begun to make both an emotional and physical record of a single life.
In the original Perpendicular Dialogues installation, the gallery walls, covered with work, appeared as flow charts towards an unknown destination. These thoughts and groups of collections are still being expanded upon today.
The original installation was 113 feet in length, 10 feet in height and included numerous interactive floor elements. For this Trawick Prize exhibition, I have selected a small cross-section of elements of the original installation.
Trawick Prize • Overview
The Trawick Prize
Bethesda Contemporary Art Awards
The Trawick Prize: Bethesda Contemporary Art Awards is the visual art prize produced by the Bethesda Arts & Entertainment District. The third annual juried art competition will award $14,000 in prize monies to four selected artists. The first place winner will be awarded $10,000; second place will be honored with $2,000 and third place will be awarded $1,000. A "young" artist whose birth date is after April 8, 1975 will also be awarded a $1,000 prize sponsored by the Fraser Gallery.
The Trawick Prize winners were announced at a private reception on September 7, 2005 at Creative Partners Gallery. Jiha Moon of Annandale, VA was named the Best in Show winner of $10,000; Dean Kessmann of Washington, D.C. was awarded the Second Place prize of $2,000; Sonia Denise Tassin of Baltimore, MD was honored with the Third Place Prize of $1,000 and Michele Kong of Baltimore, MD was given the Young Artist Award of $1,000.
The jury members for the 2005 competition were Dr. Thom Collins, Executive Director of the Contemporary Museum in Baltimore, MD; Andrea Pollan, an independent curator, fine arts appraiser and art consultant and Olga Viso, Director of the Hirshhorn Museum and Sculpture Garden.
The exhibition featuring The Trawick Prize finalists will be held from September 6 - 30, 2005 at Creative Partners Gallery located at 4600 East West-Highway in downtown Bethesda, MD.