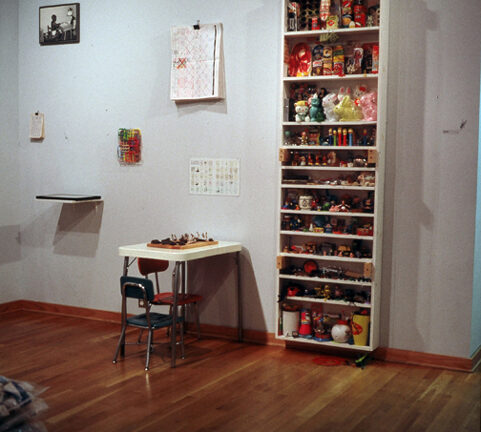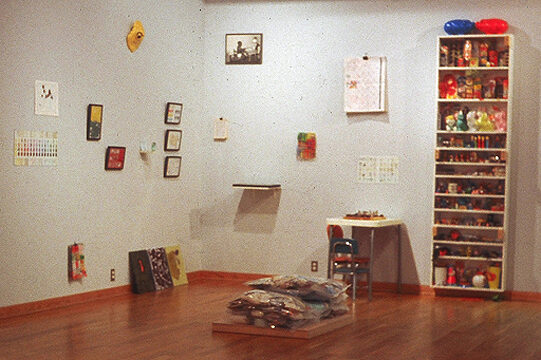 Habitats and Dwellings • Press Release
Curator Lori Rubeling has spent a good deal of her career considering space. In the current exhibition at Maryland Art Place, Rubeling challenges viewers to focus on dwelling spaces, while asking us to examine what she calls "the material | memory dialectic." The exhibition, which opens on August 26, features artwork by a group of seven artists and two architects. A gallery talk with the artists and curator will take place on Saturday August 30, at 2pm, with a reception immediately following at 3pm. The exhibition continues through September 20, 2003.
Rubeling's primary concept for the exhibition is stratification: relating artists' artifacts to the qualities of memory. She has installed the exhibited works to signify three themes: man-altered landscapes, interior spaces, and nature settings. Rubeling has titled the exhibition to provide a clue for its interpretation: Habitats are places where an artist frames experiences; Dwelling might be a mental space were the artist begins to translate experiences; Memory is a mental faculty where an artist determines and stores the meaning of things; while Material becomes a spatial extension of the artist's memory and imagination. Many of the works in the exhibition share common identities: some draw on methods of appropriation, while others include found objects or similar construction methods and technologies.
In many ways, the works in HABITATS "talk to one another," assisting the formation of deeper meaning behind Rubelings' intents for curating this exhibition. HABITATS AND DWELLING, artist S. Denise Tassin, speaks of her collecting activities in Baltimore: "It's like having the brain on the outside of you instead of the inside: it's about the accumulation of objects."
This exhibition is also ordered to frame potential and actual relationships between the exhibited art works and the artists' exhibiting [for example Douglass, Fukushima, Kain, Lemmert and the curator Rubeling studied at Cranbrook Academy of Art, Bloomfield Hills, Michigan.]. Rubeling also makes the most of this exhibition opportunity by comparing and contrasting conceptual characteristics shared between Modern and Postmodern art history traditions. This exhibition was supported, in part, by Moffat Kinoshita Architects in Toronto, Canada.
The following artists and architects will exhibit work in HABITATS AND DWELLING:
Barry Bartlett: three mixed-media sculptures appear to set-into-motion the figurative and architectural forms found in a child's toy box. Bartlett lives and works in Manhattan and teaches at Bennington College, VT.
William Christenberry: Exhibits The Green Warehouse, Newbern Alabama, a set of photographs spanning 27 years. Christenberry, an internationally acclaimed artist who teaches at the Corcoran School of Art + Design, is represented by Hemphill Fine Arts in Washington, DC, and Pace/MacGill in New York.
Mary Douglas: Exhibits a chipboard and wood topographic model that "interprets" Sanford Gifford's painting Kaaterskill Falls, New York. Douglass is the Curator at the Southern Highland Craft Guild, Asheville, NC, and was awarded a NEA Visual Arts Fellowship.
Ken Fukushima: Exhibits a sequence of drawings based on four landscape panels or "sites" (each depicting one of the four seasons) by the Japanese artist, Sesshu (1420-1506). This work received a Canada Council Arts Award for Architecture. Fukushima is a Principal at Moffat Kinoshita Architects in Toronto, Canada.
Brian Kain: Exhibits a silver gelatin print series exploring the spatiality of language, extracted from Simple Compounds, featured in Front 2003 as part of a larger catalog of over 80 phrases. This work was first exhibited at the Villa Julie College Art Gallery. Kain teaches at the Maryland Institute College of Art.
Karen Anne Lemmert: The Pier Mirror construction was inspired by 19th Century decorative pier mirrors commonly found in Victorian parlors. Lemmert has been commissioned to design a yurt hut, to be built in Afghanistan. Lemmert is a Principle Architect at Manifold Design in Baltimore, Maryland.
Marie Ringwald: Exhibits sculptural explorations of rural American architectural icons and crafting. Her previous works are based on variations found in rectilinear barn and traditional storage structures. Ringwald, is represented by Troyer Gallery, Washington, D.C and teaches at the Corcoran School of Art + Design.
S. Denise Tassin: Portions of Tassin's Baltimore studio (crafted collections of plastic items, bird skeletons and common artifacts) have been relocated to MAP. Tassin frequently collaborates with percussionist Tom Goldstein: their most recent performance collaboration was at Signal 66 Gallery in Washington, D.C.
Sarah E. Wood: End Tables, 2002; Wood lives in Queens, New York and is the youngest artist in this exhibition. Sarah graduated from the Maryland Institute College of Art in May 1999 and received a MFA from the Mason Gross School of the Arts, Rutgers University, New Brunswick, NJ in May 2001.
"Rubeling's exhibition impels audiences to consider how architecture affects individual lives and culture. We're pleased to present another outstanding exhibition that addresses important issues about the world in which we live," commented MAP Executive Director, Julie Ann Cavnor, about the HABITATS exhibition.